What can a group of long-dead philosophers teach a student today? The answer is plenty.
Amid the more prescriptive elements of the NSW curriculum, two Sydney Catholic schools have created imaginative and intelligent courses to develop their students' critical thinking skills.
We take a look at the skills and concepts Our Lady of Mercy Catholic College (OLMC) Burraneer and Marist Sisters' College Woolwich philosophy students take with them into a future of rapid change.
OLMC: PHILOSOPHY BY THE BAY
In 2015, OLMC Burraneer introduced the course Philosophy by the Bay, fusing the work of Renaissance philosophers with modern science, society and politics.
The NSW Education Standards Authority (NESA) endorsed the elective for students in years 9 and 10. 
So what exactly can an OLMC girl learn from a bunch of dead philosophers?
It's a question that the school's philosophy teacher and gifted education facilitator, Kerrie Ramsay, asks students at the beginning of each year.
"Always for us the concept is first: ethics, power, legacy, truth," Mrs Ramsay said.
"Then the philosophers' opinions become ones to consider alongside our own, our family's, our friends'. It's a big melting pot of ideas.
"Philosophy by the Bay gives the gift of time, listening, and checking what you think about the world around you and your own values."
"The students know they're formulating their first beliefs and that their first beliefs won't necessarily be their last beliefs"  –  Kerrie Ramsay
Mrs Ramsay said past students have been drawn to North Carolina academic Tom Reagan's work on animal rights, and discussed Immanuel Kant's black-and-white stance on dishonesty.
More recently, the COVID-19 pandemic allowed students to explore 17th century English philosopher John Locke's stance on personal liberty, alongside concepts of utilitarianism and civic responsibility.
"The ethics of vaccine priority and decisions about mandates and personal freedoms to travel all come into the philosophical world," Mrs Ramsay said.
"To know that people have been discussing these things for thousands of years, I think, was comforting to the girls."
Future focus
Mrs Ramsay said as STEM (Science, Technology, Engineering and Mathematics) grows in importance, so does the role of ethicists.
"Science can make progress, but it's the ethicists and philosophers – people who look at impacts and direction – that then have to help us as a community steer through the fast rate of scientific advancement," she said.
"I see a future for philosophers in companies in every industry to help them steer an ethical course."
MARIST SISTERS: PAST AND PRESENT THINKING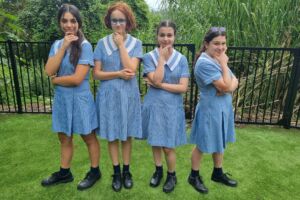 Based on student feedback, Rachel Colreavy knew Marist Sisters' College Woolwich would have no shortage of takers for its new Years 9 and 10 philosophy elective beginning in 2022.
Mrs Colreavy is a Religious Education teacher at the school and facilitates its Newman program for gifted and talented students. She has crafted a course that examines pillars of philosophy including metaphysics, ethics, social and political philosophy, aesthetics and logic.
Ancient Greek philosophers Plato and Aristotle join lauded thinkers from the Enlightenment period and contemporary philosophers to provide food for thought.
"As Catholics we have a great tradition of philosophy we can draw on, with some great thinkers and Church fathers, such as St Augustine," Mrs Colreavy said.
"We will cover concepts such as: knowledge and the nature of thinking, reason, truth, what it means to be human, what is happiness?
"Critical thinking skills are a key component as well as how to develop an argument."
"Students want the skills to be able to challenge, debate and figure out for themselves what the truth is" – Rachael Colreavy
Mrs Colreavy said she hopes to develop a culture where students learn strong collaboration and reasoning skills.
"I want them to be able to think deeply and to reflect deeply; to observe how their thinking shifts throughout the course and to appreciate a range of views and beliefs," she said.
Adelaide Kennedy is among those who have enrolled in the new philosophy elective.
"I am choosing Philosophy because it helps to solve problems in real life," she said.
"We learn how to answer unanswerable questions about life and morals, which improves our ability to answer questions with finite answers."
The classroom becomes a place where critical and creative thinking is fostered" – Rachael Colreavy
UNIVERSITY LINKS
University electives in philosophy are open to students in Years 10 to 12 at Sydney Catholic secondary schools, and give opportunities for early degree entry.
The University of Notre Dame's (UNDA) Logos for Schools units in philosophy and ethics are eligible to count towards the preliminary HSC and a university degree.
Macquarie University's Critical Thinking elective can be added to students' Year 11 Record of Achievement, and allows them to gain early entry with advanced standing to one of 90 degrees at the institution.
Both courses recognise that philosophy and ethics generate skills that can be applied across all academic disciplines, and to daily life.
Four Marist Sisters' College students are about to undertake UNDA's Logos 1 course over one week, and related assessments in 2022.
"This is such an exciting opportunity for our gifted students and they are really looking forward to it," Mrs Colreavy said.
By: JADE RAMIREZ