A challenge program at Patrician Brothers' College Fairfield is giving gifted Mathematics primary school students a chance to expand their problem-solving and number skills.
It is the second year that the college has run its Maths Challenge. 
Sixteen students from the following three College feeder primary schools took part in the 2022 program: 
"The purpose of the program is to both excite and challenge the students' knowledge about what it means to apply and use mathematics," said Patrician Brothers' Mathematics teacher and program facilitator, Peter Pham.
He said the challenge was designed to meet a need for extension opportunities in the primary school setting.
"It extends the students who have demonstrated the capacity to work up to three years ahead of their peers," Mr Pham said.
"Rather than it being something tedious and repetitive, we wanted to show students that you can apply Mathematics to different situations" – Peter Pham
About the Maths Challenge
The Thursday sessions include a teaser question for the primary students, which is followed up with a problem for them to solve covering topics such as algebra, measurement, area, perimeter, indices, probability, and data analysis and evaluation.
"I give them time to attempt to solve the question themselves before providing guidance and going through solutions," Mr Pham said.
"We want to develop a culture where students value and appreciate the different elements of maths" – Peter Pham
Mr Pham said the Maths Challenge not only helps to develop the younger students' problem solving skills but creates a valuable opportunity to build community.
Students become the teachers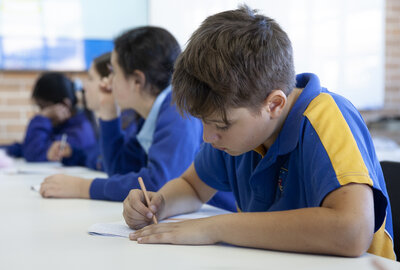 The Maths Challenge has also helped to develop the leadership skills of three Patrician Brothers' Year 11 Mathematics Extension 1 students, who volunteer their time as program mentors.
"You could almost think of them as like a teacher's aide," Mr Pham said.
"It gives them an opportunity to interact with students who might need additional support and help them lead towards success."
The Mathematics enrichment program follows another successful Patrician Brothers' STEM initiative – a 10-week solar car design and building program that prepared students from four Sydney Catholic primary schools for The University of NSW's SunSprint Model Solar Car Challenge.
By: JADE RAMIREZ