Fletcher Warn has had another stellar year in the surf.
Marist Catholic College Kogarah Year 11 student Fletcher Warn competed in a level above his age division to rank first in the U19 Male Surf Teams event at the 2022 Australian Surf Life Saving Championships.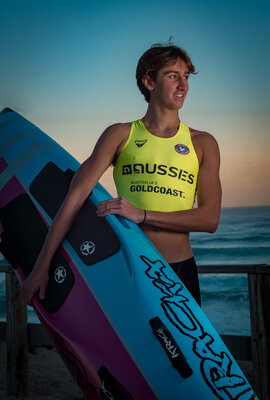 Warn, 16, competed in the team event alongside teammates two years older than him.
He admitted to being nervous but determined at the start of the race at North Kirra Beach on the Gold Coast.
"No one really thought we could win because we had three under 19s and one under 17 in the team," Warn said.
"One of us had glandular fever and hadn't trained for weeks.
"There were boys towering over me and I knew it was going to be a dog fight to the can."
"The start gun went and I just ran straight in to give it my all" – Fletcher Warn
After swimming in a gutter for 15 metres, Warn rallied with a sprint to the lead pack.
He and his team mates held their positions in the race's top 10 during the race's final sprint.
"It was a really good feeling," he said.
Warn's individual results at the competition, which brought together more than 1,400 competitors from clubs across Australia, were just as impressive.
He placed second in the U17 Surf Swim, second in the U17 Ironman event, fourth in the U17 Ocean Swim, and fifth in the U17 Board Rescue.
He was also a 2022 Surf Life Saving Sydney Branch Youth Athlete of the Year finalist.
HISTORY OF ACHIEVEMENT
Warn joined nippers at Wanda Beach SLC at age six and has medalled in at least one event every year since turning competitive in the sport at age eight, except in 2020 when competition was cancelled.
Training ahead of a large event includes six pool sessions and five or more beach sessions which combine the four main disciplines in surf lifesaving – swimming, board paddling, ski paddling and running.
"It's a pretty big program, but it suits me well," Warn said. "It gives me that balance of being at the pool and being at the beach, which I prefer."
Warn said he liked the competitive side of surf lifesaving and the camaraderie.
"I've made so many friends all over Australia in the past three years," he said.
"I like how you can be really serious when you race but afterwards everyone is friendly, talkative and gets along really well. It's like a family."
By: JADE RAMIREZ