Students spoke with a confidence and clarity that left their teachers and parents in awe at the semi-final of the 2021 Botany-Randwick Public Speaking competition. Now, 13 progress to the grand final!
The inaugural Botany-Randwick Public Speaking Competition was created in line with Sydney Catholic Schools' (SCS) priority to provide engaging, holistic learning experiences where children thrive academically.
This year 42 students from 14 primary schools competed in the competition's semi-final, which was also live streamed on Zoom. Thirteen students will progress to the grand final at Our Lady of the Sacred Heart Catholic Primary School Randwick on Thursday 15 July.
 "The students spoke clearly with passion and commitment" – Margaret Holles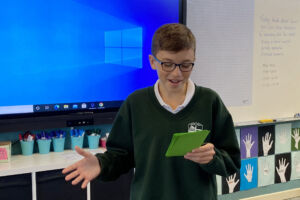 SCS' Executive Director, Tony Farley, will be a guest speaker at the grand final. Local members of parliament – Marjorie O'Neill (Coogee), Michael Daley (Maroubra) and Ron Hoenig (Heffron) – will adjudicate.
The speeches will be live streamed for parents who cannot attend in person.
'EFFECTIVE COMMUNICATION IS AN ESSENTIAL SKILL'
Our Lady of Mount Carmel Catholic Primary School Principal, Margaret Holles, was part of the competition's organising committee.
"Our goal was for students to gain greater skills and confidence in their oral presentations and presenting their position on any topic," Mrs Holles said.
"Effective communication is an essential skill for learning, problem solving, collaborating and building healthy relationships in life" – Margaret Holles
While many students favoured the topic 'The internet has caused more problems than it has solved' at the semis, others spoke eloquently about 200 Years of Catholic Education and the importance of treating elders with respect.
"Some of the audience could be seen on Zoom putting their own hand to their heart as they heard these messages about valuing our elders, or the consistency of sharing our faith through 200 years of Catholic Education," Mrs Holles said.
"The students adapted extremely well to having a physical and virtual audience" – Margaret Holles
St Bernard's Catholic Primary School Botany Principal Jennifer Chu said the quality of the speeches was exceptional.
"The semi finalists not only presented carefully crafted arguments to support their viewpoints, they also spoke so confidently and passionately," Mrs Chu said.
"Parents who attended commented that they would never have had the confidence to speak so well when they were in primary school" –  Jennifer Chu
Students apply a wide range of literacy skills to their speech delivery, both written and oral. 
They must research and develop an argument on a topic using credible sources of information.
A public forum to share their opinions helps to develop their confidence.