Visual Arts – Sculptural 
Introducing the Visual Arts – Sculptural category winners of our first ever Sydney Catholic Schools' Lockdown Arts Festival.
The meticulous attention to detail by our category winners and highly commended sculptors – including the creators' descriptions of their own work – is sure to impress.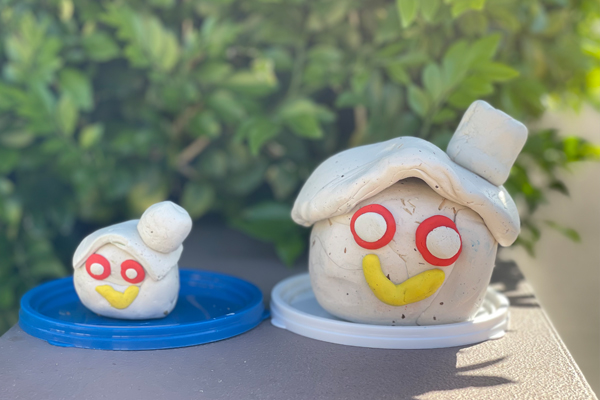 School: St Joseph's Catholic Primary School, Oatley
Title:  House Friends
Emma loves doing art and clay work. With lockdown, Emma has found a new appreciation for how lucky she is to live in her house and have her own room to play. She decided to create some clay art to show her feelings. When lockdown is over, she want to help other kids less fortunate than herself who may not have somewhere to live so they can be live in a happy house too:). Move to scultpueral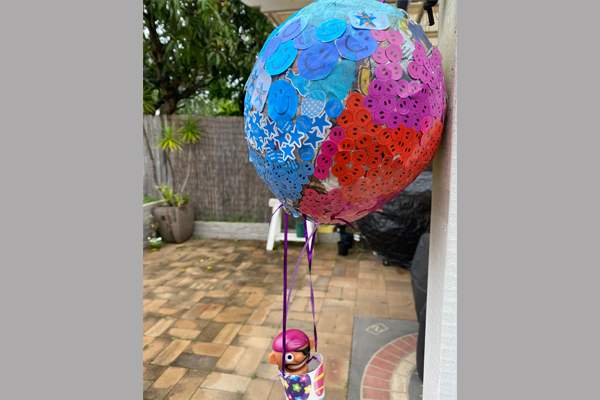 School: St Brigid's Catholic Primary School, Coogee
Title: Free like a Balloon
My paper machie balloon floats freely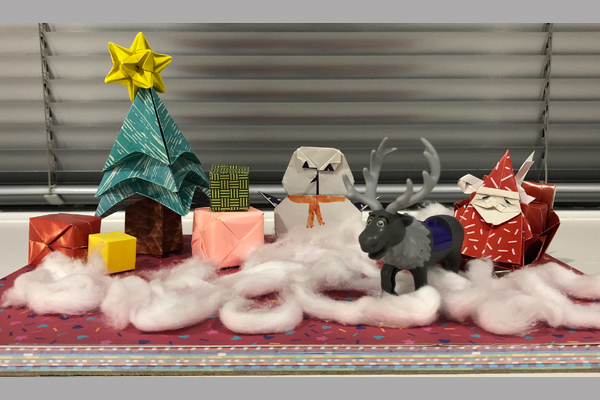 School: St Patrick's Catholic Primary School, Kogarah
Title: Christmas Wonderland Origami
Origami is a Japanese art of creating paper sculptures. It's a very creative form of art which requires lots of patience and perfection. Reyansh is very passionate about this art and has made some very complex origami. His favourite Origami artist is Jo Nakashima, he has learnt a lot from his videos.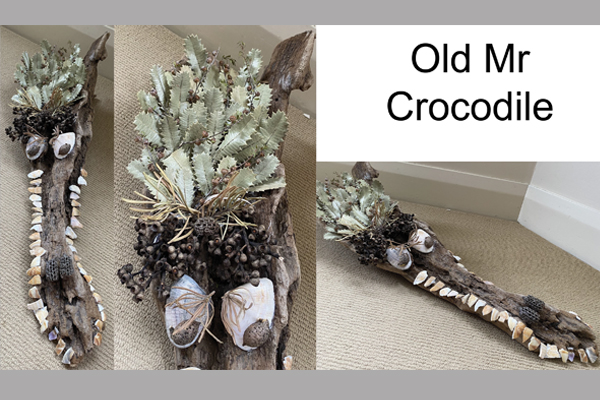 School: St Michael's Catholic Primary School, Lane Cove
Title: Old Mr Crocodile
I recently found a piece of driftwood on the beach that I thought looked like a lot like a crocodile's head. I looked around for some other things to use in a sculpture, like shells for its teeth and eyes. Then later in lockdown I started collecting some more pieces for the sculpture to give the croc some different features, like casuarina pods for its nostrils and other leaves and seeds for its green textured skin. It even has eyelashes. A crocodile fits with the competition's life in lockdown theme as not only have I felt constantly hungry, sometimes I have also feel snappy and frustrated when things like my class zoom calls haven't worked and I can't see my friends or play sport. I am excited to go back to school!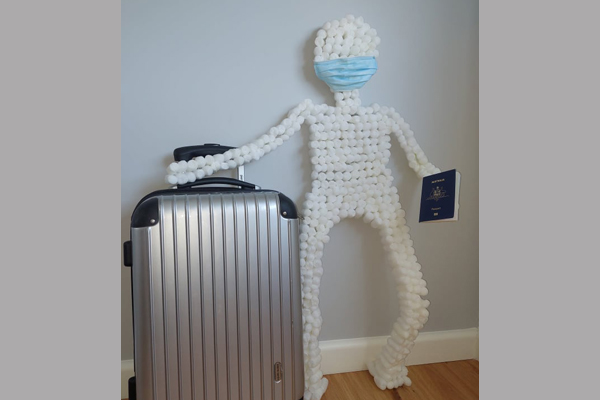 School: St Therese Catholic Primary School, Padstow
Title: Freeman
The material is packing peanuts recycled from online shopping. The sculpture is a man wearing a mask boarding a plane holding his luggage and passport. I haven't seen my relatives for 3 years now in LA and my interpretation of Lockdown art theme life after lock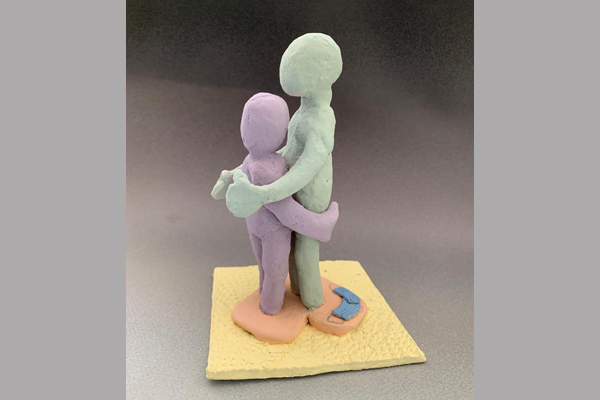 School: St Joseph's Catholic Primary School, Enfield
Title: The Hug
Hugging is something that can bring many things, comfort when we are scared or sad, a feeling of well-being that we are safe and protected, happiness knowing someone cares for us. My art piece is a clay sculpture representing the thing I am most looking forward to as I look outwards from a life in lockdown, hugging my grandparents. We are meeting for the first time at the park for a picnic. My sculpture is my Nana and I at our picnic. Our masks are off, we are standing on a love heart on our picnic rug. The heart is a symbol of the most important thing in our world, our love for one other.Although this is my Nana and I, my sculpture is meant to represent an embrace between anyone. A hug reunites us after a long time of being apart, it is one of the first things we receive in life and is an important connection that unites all people everywhere.
School: St Ursula's College, Kingsgrove
Title: Just One Chance
My sculpture is based on the healing of the planet after covid as society is in much need of natural restoration. I have used a recycle globe model and sculpted mushrooms and the frog. I used synthetic plants and leaves along with stone and fairy lights to bring my sculpture to life. I have created the potential of nature If it is given a chance and how it can restore the 'hole' in our planets ecosystem. Covid has inspired me to look forward to the positive outcome as whilst we are locked down and factories/manufacturing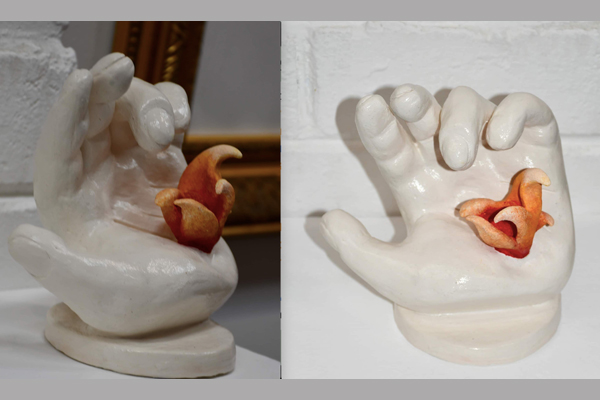 School:La Salle Catholic College, Bankstown
Title:Together we survive the first of pain
It represent the family and issues, where family can resist any issue when all its members stand together. In this the hand represents my family and the flame represent hardships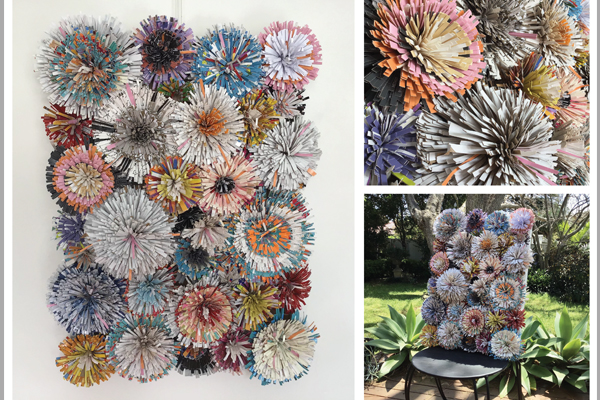 School:St Michael's Catholic Primary School, Meadowbank
Title:Blooms Where you are planted
Lockdown brought new challenges, but more time to create and reflect. This artwork grew slowly, it was like planting seeds for a future garden and imagining days freely spent enjoying the vision. Making the most of the situation, I collected boxes and packets from supermarket items in the pantry and online deliveries as art materials. With a pair of kitchen scissors, cardboard was shredded and rearranged to create swirling, organic forms, bursting with life, multiplying and celebrating the beauty of God's Creation. This meditative art practice was powerful, prayerful and calming to the mind. It was Sabbath time. I found joy in creating from what was available, it gave me a sense of hope and purpose.
I was reminded of Saint Francis de Sales' words, he said that God was "inviting us to bloom in the garden where He has planted and directing us to radiate the beauty and spread the fragrance of His Providence."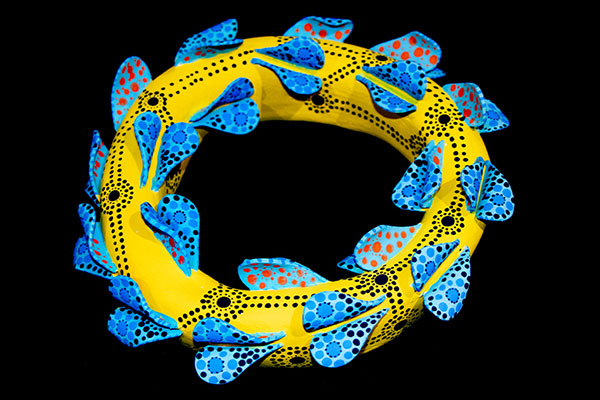 School:Freeman Catholic College, Bonnyrigg Heights
Title:The Cycle of Life
My ceramic wreath commemorates all of the lives lost during the pandemic. The shapes symbolise new life and the yellow circle symbolises hope. The Aboriginal patterns of campsites are linking all communities through these extraordinary times to stengthen our future.