The Eisteddfod is back for its third year in 2023 and it's bigger and better than ever. 
Students from 114 schools will lace up their dancing shoes and warm up their vocal chords for the Sydney Catholic Schools (SCS) Eisteddfod.  
Born from a need for schools to have the opportunity to perform, the SCS Eisteddfod offers Vocal, Instrumental, Dance, and Drama categories with numerous sections in each. 
With two extra venues added to accommodate for the 1238 entries received, SCS Education Officer for Creative and Performing Arts, Iris McGill, marvels at the magnitude of this year's six week event.
"The growth shows the need in our post-pandemic world for people to get back out there. They want to start performing and they need these opportunities," she said.
The introduction of Newcomer, Developing, and Advanced levels for each category allows performers to be grouped via like-ability and is sure to make for an entertaining showcase. 
The SCS Arts team have also partnered with the Sport team as well as the former CEO of Sydney Eisteddfod, Piroozi Desai, in order to bring in exemplary, experienced adjudicators from outside the system. 
Iris, along with SCS Event and Production Coordinator for the Arts Team, Andrea Corish, are excited to announce the inauguration of some big ticket items for 2023. 
"Generally we try to accommodate what's happening in schools but we also try to push boundaries, so we have a new Drama section that we are thrilled about, which is Slam Poetry," says Iris. 
For the ensembles who are a jack of all trades, a Show Choir category is running for the first time this year for experienced choirs to present not only song, but also movement and other characteristics. 
Andrea highlights that "it's for those students that want to move on to the next step and grow."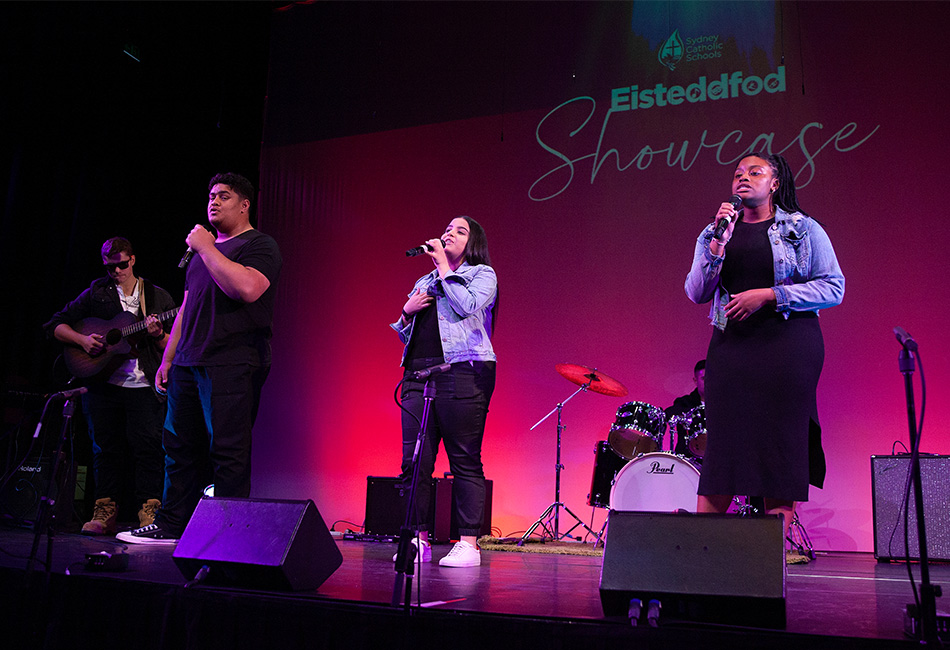 The school to beat this year is last year's overall winner, St Charles Catholic Primary School Ryde, who are back in full force looking to defend their title. 
The ones to watch are also the 2022 runners up, Holy Spirit Catholic College Lakemba, and Marist Sisters' College Woolwich. 
Andrea explains that the importance of the SCS Eisteddfod is multifaceted as it does not only promote participation, but also provides moments for students to shine and be noticed for their talent.
"Not only is it externally fabulous, but within our own system we are able to then promote our students into further opportunities such as performance ensembles and stage shows," she says. 
All eyes will be on the end of the Eisteddfod season, where select students will sing, act, play, and twirl their way into the Showcase, a special event that features the best of the best. 
The Arts play such an important role in the education of students and SCS is proud to offer this opportunity to all our schools. 
"It has the power to transform because the Arts cater to the whole child. In a sensory sense, through expression, in communicating and problem solving, in finding order through chaos," says Iris.
"Some of these students may never have the opportunity to perform or even have the affordances to attend out of hours tuition.
"The work that happens in a school context makes the Arts accessible regardless of gender, culture, socio-economic status and ability, as it isn't a one-size-fits-all."
If performing isn't for you, Andrea mentions there are many other ways to get involved in the SCS Eisteddfod. 
"All students can be involved in any aspect that they want, we've got a lot of front-of-house and back-of-house options," she said.
"It's a way we try and get other students who may never get to experience the Arts involved."
The spirit of the SCS Eisteddfod is summed up beautifully by Iris.
"The Arts is like a home for teachers and students to have an outlet, and I think that's one of the greatest gifts we can give to our students."
Written by Tasmyn Haynes