The Pope Francis Award gives student volunteers in Year 6 a soul-enriching opportunity to help make the world a better place. This week we recognise our 2021 graduates.
In recognition of their important contribution to our school and parish communities Sydney Catholic Schools is currently recognising the latest 1,142 Pope Francis Award graduates from across the Archdiocese of Sydney.
They will each receive specially-designed certificates and medals after completing 20 or more hours of self-driven community service in their school and parish communities before and after school, including during lunch and recess, throughout 2021.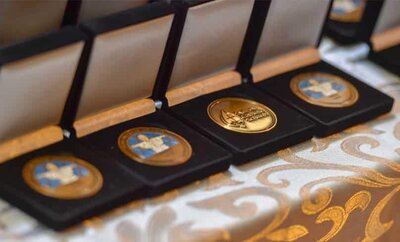 "The best thing you can give people is your time and that's what we encourage: for young people to make an impact," Sydney Catholic Schools' Education Officer: Church Engagement, Cheryl Fernandez, said.
"I believe it's a beautiful way for students to be involved in giving back to the community," she said, adding "it's a way that students can develop organisational and leadership skills."
ABOUT THE POPE FRANCIS AWARD
The Pope Francis Award supports students' growth as a whole person – including their social, spiritual and emotional learning and wellbeing – by encouraging the involvement of students in their school and local parish.
It supports students to find their voice and be a powerful influence for good, no matter their academic ability, within the nurturing environment of their school and parish community.
"The yearlong program will help your child recognise the importance of respect and caring for others, while encouraging them to be compassionate open-hearted service leaders who 'never see a need without doing something about it'," Ms Fernandez said.
As Pope Francis says, "Jesus didn't stay out on a balcony. Instead, He got involved. Follow Jesus' example."
Sydney Catholic Schools similarly invites students to stop being couch potatoes and to put on their boot lace shoes and leave a mark on the world.
Supported in-school initiatives of students have included assembly presentations, collecting money for Project Compassion, helping set up liturgies, running various clubs at lunchtime (e.g. art and sporting clubs), looking after the school's vegetable garden.
The Award also recognises service in the parish which may take the form of altar serving, participating part in the Liturgy of the Word (the part of the Mass where there are readings from Scripture) or offertory procession, and helping with the Children's liturgy (when the children leave the congregation to celebrate and reflect on the Sunday Gospel reading in an age appropriate way), in nursing homes, and with COVID-19 checks during Church services.
From small beginnings come great things
When Sydney Catholic Schools initiated this unique faith-based service program in 2017, only 17 schools participated in the pilot program and 220 students graduated.
Today, more than 90 primary schools across the Archdiocese of Sydney deliver this program, supporting students to develop mindsets of 'giving back' while contributing to their own success by developing new experiences that will aid them in the long run.
There have been more than 2,400 graduates so far. Excitingly, the program will be expanded to include Year 7 students from four SCS schools in 2022 who will also complete passion projects that help their school and parish communities.
LEADING BY EXAMPLE
A Sydney Catholic Schools' alumni, Ms Fernandez has overseen the system's Pope Francis Award program since its inception four year ago and credits her participation with broadening her own horizons.
"I volunteer once a month at Eileen O'Connor," Ms Fernandez said of the convent of Our Lady's Nurses of the Poor, Coogee, where saint-in-waiting Eileen O'Connor's tomb is located. Ms Fernandez gives tours of the convent's museum and chapel, and also serves tea and coffee.
But even before this, the St Margaret Mary's Catholic Primary School Randwick North, Our Lady of the Sacred Heart Primary School Randwick, and Brigidine College Randwick graduate had been carving out time for volunteering. "I joined every club at the school," Ms Fernandez said of her time at Brigidine.
An inspirational leader, she has volunteered at six World Youth Days events and two Australian Catholic Youth Festivals, while still finding the energy and inclination to volunteer with St Vincent de Paul Society's Night Patrol homeless service, at Ignite Catholic youth conferences and, more recently, at Maroubra Lions Club.
She also used to dress up as The Kids' Cancer Project teddy bear mascot Oscar, clearly demonstrating that the helping hand can take many forms.
Asked what she would say to anyone thinking about getting involved, but still unsure, Ms Fernandez had this advice: "I would say get involved, because you never know the difference you can make in another person's life."
AT A GLANCE
Year 6 students earn an award by volunteering their time before and after school completing self-driven community service projects, tailored to their own strengths, goals and passions – unpaid gifts of time that well may shape their future course in life
This service needs to be approved by their teacher mentors and should be focused on reaching out to the needs of others in our community
For out-of-school service, it is mandatory that parents accompany and supervise their child, i.e. this program requires commitment from both parent and child
The program is aimed to encourage the involvement of students in their local parish and to encourage students to reflect and pray about the significance of volunteer service
Students also complete four online modules, designed to deepen their understanding of their service and the significance of their contribution to society, including to their personal growth journeys
In Term 4 of every year Sydney Catholic Schools recognises participating students across the Archdiocese of Sydney with specially-designed certificates and medals.