Six photographs is all it took for Domremy College Year 12 graduate Aysel Kaya to draw eyes and minds to social prejudice.
Her work, Loud Whisper, was among the 73 paintings, drawings, sculptures, and mixed media works that combined to form a visually arresting exploration of faith and identity at the 20th Clancy Prize for Student Religious Art. The Clancy Prize is open to students in Years 7 to 12 at schools within the Archdiocese of Sydney.
The exhibition opened at Australian Catholic University's (ACU) McGlade Gallery in Strathfield on 15 March. The anniversary year of the prize marked the third and final of the theme inspired by Pope Francis' words: 'A little mercy makes the world less cold and more just'.
"The idea was to capture the loss of innocence through childhood to adulthood as people become aware of the prejudices in society," Aysel said of her dramatic black and white photographs.
"Kids are so vulnerable, yet they find it easy to make friends with everyone. They don't know a person's cultural background or even what it means. They just see the person."
I wanted to capture how the idea of mercy transcends culture and time
Identity was as strong a theme as mercy in the prize-winning artworks done by students from Sydney Catholic schools, including Aysel's and the others who received ACU School of Arts Awards.
Trinity Catholic College Auburn Year 12 graduate Victoria Ferguson's highly detailed drawing Quan Am was named after the Vietnamese goddess of mercy. It blended elements of her Vietnamese and Scottish heritage with religious icons wrapped in the body of a dragon.
Victoria now studies a Bachelor of Fine Arts at The University of NSW.
"I wanted to capture how the idea of mercy transcends culture and time," she said. "I've also depicted a lot of Christian sculptures that are also a representation of mercy and godliness."
Casimir Catholic College Marrickville Year 11 student Junior Fisiitalia took only a few days to paint Mother Teresa as his submission to the Prize, which won the third ACU School of Arts Award.
"I thought of her actions, attributes and kindness towards the homeless and lepers," he said. "I wanted to draw something that represents the theme and Mother Teresa connects with the theme."
Branching out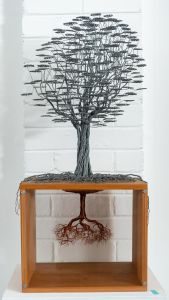 De La Salle College Ashfield Year 12 graduate John Antoun received the Msg.Tony Doherty Award for his aluminum and copper wire sculpture of a cedar tree that reflected his Lebanese roots.
John, who is studying a Bachelor of Architecture, said the wire work had been a new medium to explore his interest in design, art and building. He experimented with small models and sketched the design before staying up until 2am on occasion to complete the sculpture, which was also his HSC major work.
"I became addicted to it," he said. "It made me strive to work harder. The tree represents my identity and expresses mercy through following God's word and being holy."
Pilgrim earns award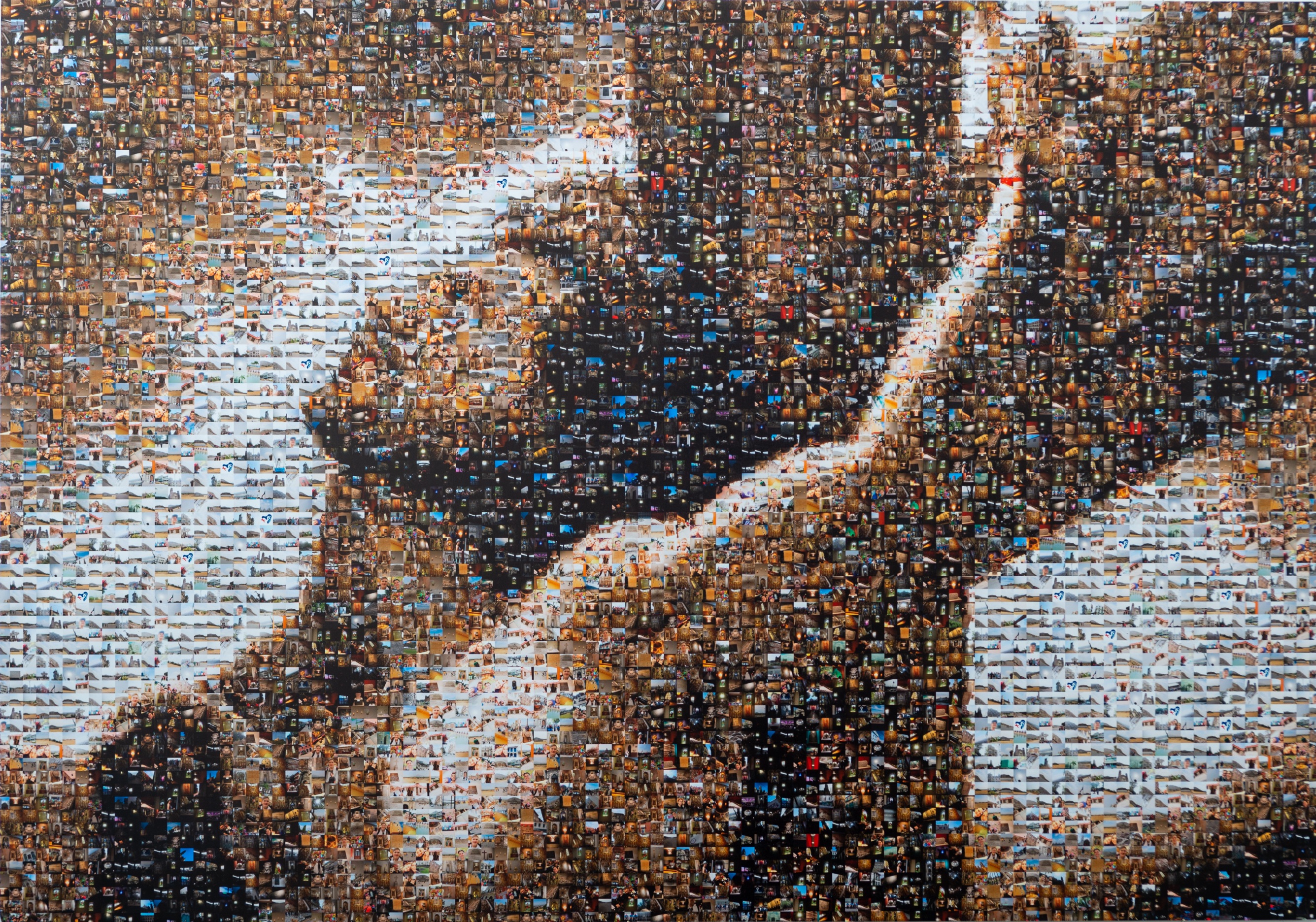 Holy Cross College Ryde Year 11 student Seamus Cronin received the Executive Director's Award for his artwork Pilgrimage.
He made the composite image of Jesus on the cross with close to 1,000 tiny photographs he took of World Youth Day events in Mexico and Panama this February.
"Seeing the acts of mercy people showed to each other at the main events, not caring about where they came from – just wanting to be friends in the moment – made me ponder the quote," he said. "I wanted my artwork to reflect the kingdom of heaven."
Artworks dive deep
Two of the Clancy Prize's four judges, art historian and teacher Sister Rosemary Crumlin and Monsignor Tony Doherty, have held the role since its inception in 1999.
Msg. Tony Doherty said life had become faster in the past 20 years leaving people to 'skate on the surface' of culture.
"I think spirituality is actually an action of breaking through the surface and looking at the roots," he said.
"The ministry of an artist is that they really get us to stop, look under the surface and try to understand what's going on. These works do that. That is their greatest value."
I think spirituality is actually an action of breaking through the surface and looking at the roots
Sr Rosemary said exhibition guests were challenged to look differently at things.
"The critical thing if you judge an art exhibition is to stay open to the stuff you are not familiar with," she said. "That's a challenge – to keep your own mind open and expectations at arm's length.
"I hope when I go into an exhibition that something jumps off the wall, because somebody is trying a new path rather than treading a path that has been trod before.
"Education and Science have been preoccupied in the past few years not with logic, but with story and an ability to think laterally. As we go through life we build stories about what has happened to us, and they form ways of thinking and valuing.
"That [ability to think laterally] is the gift, I think, that art education can have in the school when it is what the school is willing to affirm. The challenge in a Catholic school especially is to allow an education which is not bound tightly or rigidly, but respects the God who is the creator and cannot be limited."
2019 Clancy Prize winners
The Clancy Prize
Potentis, Patrick McMahon, Year 12, St Aloysius College Milsons Point
Brian Jordan Award
Fire & Water, Saskia Heyen, Year 12, Loreto Kirribilli
Msg Tony Doherty Award
Creativity & Mercy, John Antoun, Year 12, De La Salle College Ashfield
ACU School of Education Awards
Hands of Mercy, Year 10 collaborative work, St John Bosco College Engadine
Home & Away, Michael Youssef, Year 12 St Charbel's College Punchbowl
St Peter Chanel Catholic Church, Year 7 & 8 collaborative work, Trinity Catholic College Regents Park
ACU School of Arts Awards
Mary Teresa Bojavhio (Mother Teresa), Junior Fisiitalia, Year 10, Casimir Catholic College Marrickville
Loud Whisper, Aysel Kaya, Year 12, Domremy College Five Dock
Quan Am, Victoria Ferguson, Year 12, Trinity Catholic College Auburn