Three students from Sydney Catholic Schools have proved that a balanced approach to the HSC is best after receiving First in Course awards while pursuing the things they love.
The awards place them among NSW's top achievers from the 75,000 students who sat one or more HSC courses this year, and were presented by Premier Gladys Berejiklian and Education Minister Sarah Mitchell at The University of NSW today.
Patrician Brothers' College Fairfield graduate Robert Ciccarelli competed at the 2018 Youth Olympics in Buenos Aires during the first month of Year 12, then put his top 20-ranked fencing career on hold to focus on study.
I found training for the games much easier than preparing for the HSC.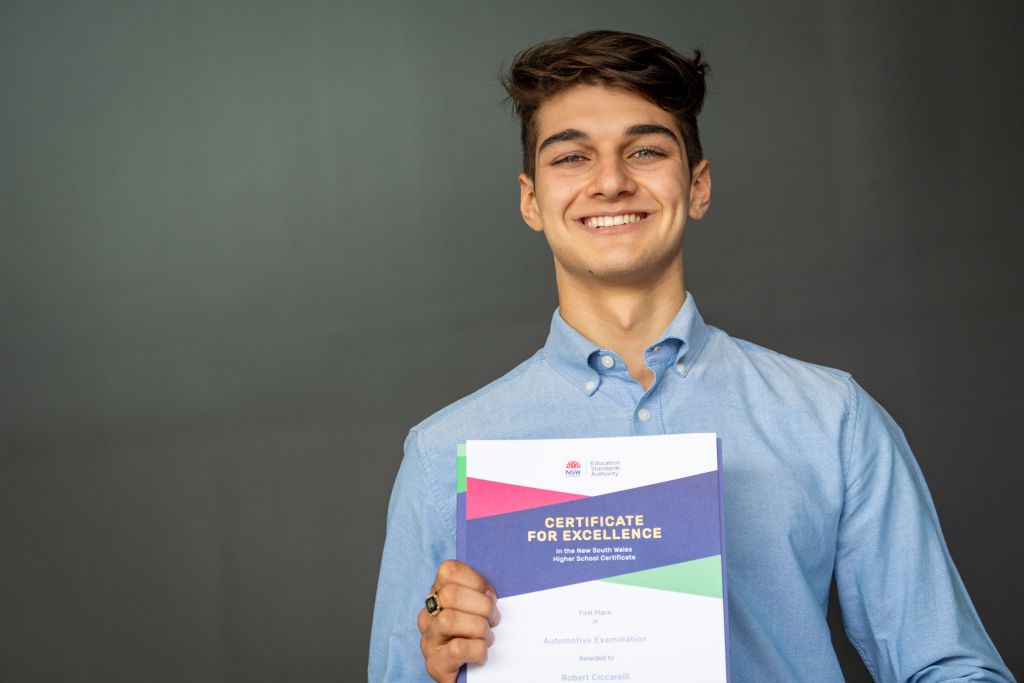 Working with his father to maintain a classic muscle car – a 1965 Plymouth Barracuda – from childhood also helped him to top the state in Automotive Examination, turning a hobby into academic success. Robert studied the subject at the St Joseph's Trade Training Centre at Good Samaritan Catholic College Hinchinbrook and said he felt grateful that one of his exams aligned with a hobby.
"It was strange truly prioritising my education over anything else for the first time to the same extent as fencing," he said. "It was a bit of a dynamic shift trying to focus on that just once a week rather than every day for three to five hours.
"I found training for the games much easier than preparing for the HSC. I really enjoy being busy. In the moment, it's stressful, but I enjoy a challenge."
Robert said he was ecstatic to receive a First in Course award. He plans to complete a project management degree and fence competitively once more at the 2024 Olympic Games.
"It's an achievable goal," he said. "Now it just becomes a question of managing uni, finances, and the social aspects of my life. I also love cars and really just enjoy going for a drive to clear my head."
It's important to be consistent and keep a steady pace.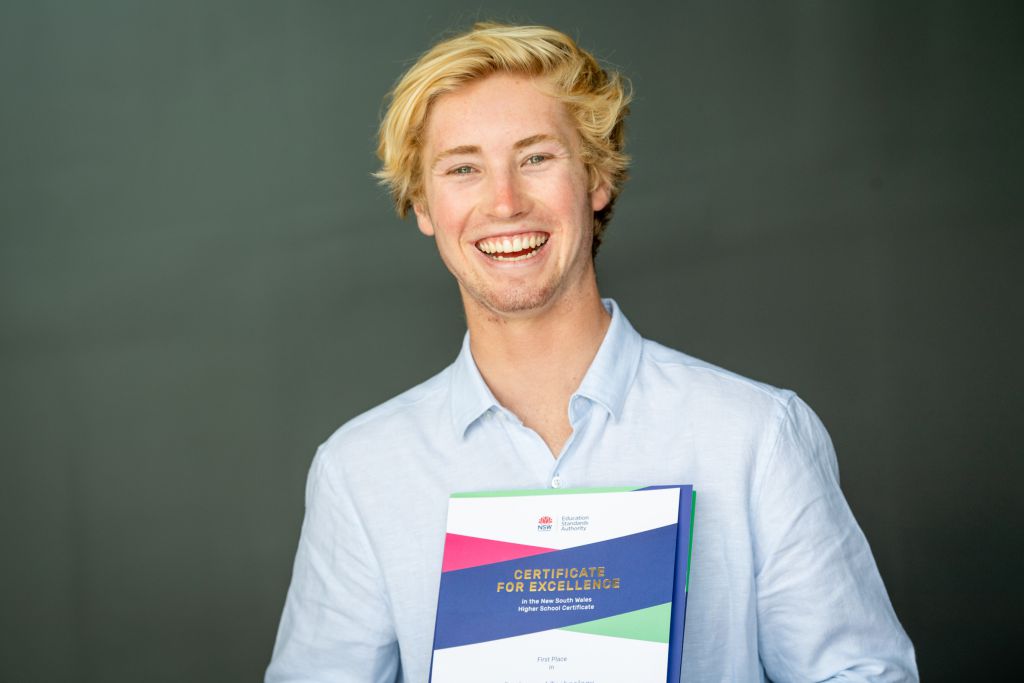 Marcellin College Randwick graduate Seamus Connon recovered from three concussions within a month while playing AFL ahead of his trial HSC examinations to place first in Design and Technology.
"It was affecting my recall and attention, so it made it pretty hard in the lead up to trials," he said.
"I didn't think I was going to top anything but I'm super stoked. It was a subject I really enjoyed."
For his major work, Seamus designed and made a waterproof backpack that has the young entrepreneur ready to postpone a gap year of travel and take on the business world.
I learnt so much over the year.
One concussion left him hospitalized, and at the direction of his coach, Seamus traded the end of the AFL season with the UNSW under 19's Eastern Suburbs Bulldogs to focus on study. It was another sporting interest, surf lifesaving, that led to his soon-to-be-patented bag design.
Seamus was the first at his school to do a textile-based project and learnt how to sew to deliver his major work. He said his teachers were very supportive.
"I learnt so much over the year," he said. "I made a waterproof backpack out of neoprene, designed for first aid supplies and walkie talkies because I work at the surf school at Maroubra and carrying water, food and sunscreen when you're spending three hours in the water is something I thought a lot of people would need.
"I'm working with a manufacturer to get the patent done and hopefully we can get started manufacturing early next year."
Seamus is no stranger to entrepreneurship. He has a t-shirt label, Unseen Apparel, with a friend who also sat the HSC this year.
"Unseen has been going pretty well but it's hard to keep up with manufacturing when you're doing your HSC," he said. "Now we're hoping to do more. I like the process of working with different materials."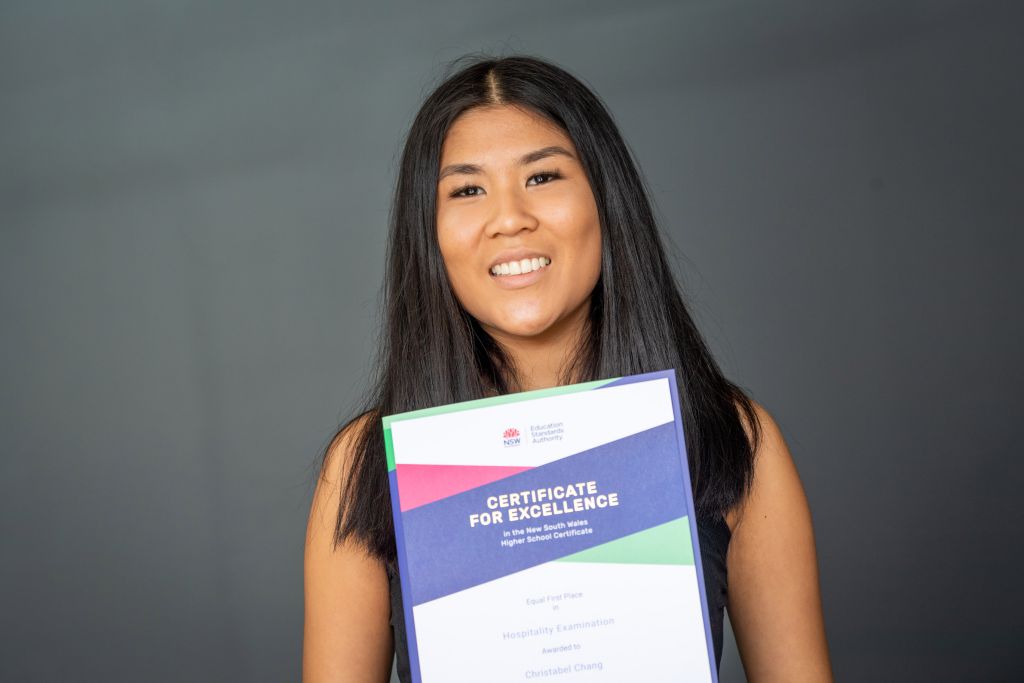 An interest in nutrition, cooking and business combined for Brigidine College Randwick's Christabel Chang, who placed equal first in Hospitality Examination.
Christabel plans to study Business and Commerce at university next year and credits making time for friends and paid work alongside study with her success.
"I had fun but I still studied a lot," she said. "It's important to be consistent and keep a steady pace."