Leading one of Sydney Catholic Schools' 150 diverse primary and secondary school communities is a highly rewarding experience, as the system's newest principals can attest.
Here four principals share how they embrace leadership with focus, empathy and a deep love and respect for the profession and those whose lives they touch.
Our new leaders
David Hurley, St Therese Catholic Primary School Sadleir-Miller
David Hurley's move from assistant principal to principal of St Therese Catholic Primary School Sadleir-Miller in 2022 is the latest in a 30-year teaching career centred in Sydney's south west.
As the school's former assistant principal he has the advantage of knowing its staff, parents and students – and its holistic approach to learning – very well.
His Sydney Catholic Schools' peer network has bolstered his confidence to lead.
"Our greatest strength is our wonderful teachers" – David Hurley
According to Mr Hurley, a high level of emotional intelligence is an important trait of a school leader.
"It's one of our key values that we know and grow the learner; not just academically and from what the data is telling you, but to know their interests and what makes them tick," he said.
"The children, of course, pick up on that. They sense the interest that teachers have in them."
Rachel Baker, St Aidan's Catholic Primary School Maroubra Junction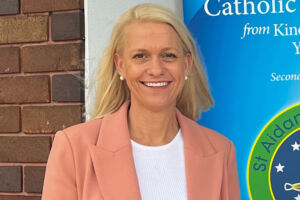 Rachel Baker's journey to principal was a textbook example.
She went from classroom teacher, to coordinator, to religious education coordinator. She then completed a five-year stint as assistant principal (AP) at St Andrew's Catholic Primary School Malabar before being appointed as principal of St Aidan's.
"The whole way along I learnt more and more and built my skills as a leader to give me the confidence and knowledge to move into this role" – Rachel Baker
She said there are "so many" people at Sydney Catholic schools willing to support your career progression.
"The principal I worked with while an AP was amazing and let me co-lead with her," Ms Baker said.
"Everything she did I was beside her, learning the processes and the policies and the correct way to go about things."
Since being appointed as principal of St Aidan's, Ms Baker has made learning the names of all 170-plus students and the skills and aspirations of her staff a major priority.
"I think the most important thing you need to remember is that you are part of a whole community: you need to have all eyes always watching, all ears always listening," Ms Baker said.
"You can't always know everything and that is where your team is so important, because as a team you are successful."
The key drivers of innovation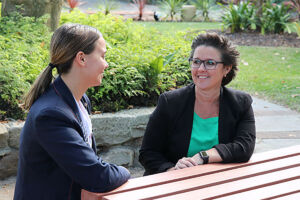 According to principals Kerrie McDiarmid and Simon Ghantous, communication and building strong relationships are vital to being effective in this role.
The pair shared their expertise during a four-day workshop for Sydney Catholic Schools' principals on effectively managing the administrative and other aspects of their job.
"I talked about being present and being a calm presence in the school, taking risks, and how important it is to think outside of the square in education," Mr Ghantous, principal at Marist College Kogarah, said.
Mrs McDiarmid, principal of St Clare's College Waverley, said good principals are open to feedback, evaluate available learning data, create a supportive environment and are present to staff and students.
She taught two Year 12 classes in her first year as college principal to gain insight into the needs of students in her community.
Last year, St Clare's College was named one of Australia's most innovative schools.
The College was also a Secondary School of the Year (non-govt) excellence awardee in 2021 and 2022.
"Being present to the students and staff is essential if you are to ensure you create a cohesive learning environment" – Kerrie McDiarmid