In a history making move for Sydney Catholic Schools' students from Casimir Catholic College have taken out firsts in the National History Challenge (NHC) 2022. 
Year 9 student, Olivia Tsigaropoulos, has been named a national winner for her outstanding multimedia project on her local theatre group, 'Shopfront'.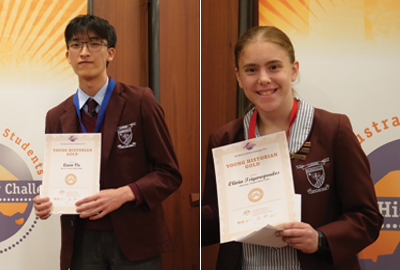 "I feel very honoured and happy that my project was chosen as a winner. I was shocked when I found out as I knew there would have been a lot of tough competition," said Olivia.
Deemed the best in New South Wales in the 'Democracy Matters' category, Olivia's award-winning entry expertly analyses the evolution and success of 'Shopfront'.
"Shopfront is an incredible community that I'm so grateful to be a part of. Its story is powerful, touching and heartwarming – I think people need to hear it," she said.
See Olivia's award-winning entry 'Shopfront Arts Co-Op: A Story of Survival' below.
"I learnt the importance of listening to and sharing the stories of others. History isn't just about the big events – everything has a history, everything has a story that is waiting to be shared." Olivia Tsigaropoulos
About the National History Challenge
The research-based competition gives Australian students the chance to be historians, researching world history, examining Australia's past, and exploring their community and roots. 
This year, approximately 10,000 students across the country entered the competition using quality research to engage with the 2022 theme: Causes and Consequences.
"Casimir is fortunate to have winners at both a state and national level, an outstanding achievement for both students and the school," said Principal Carmelina Eussen.
Year 10 student, Quan Vu achieved best in New South Wales in the 'Year Level 10' category.
The state winner's unique and innovative project evaluates the life and times of Vietnamese leader Ho Chi Minh. 
"Ho Chi Minh's an extremely important figure in Vietnam's history, so I only found it right to share the story of someone so relevant to my culture," said Quan.
This is a wonderful achievement for these students and for Casimir. We are proud to see our students engage with history which is such a remarkable indicator of the contribution they will be able to make to the societies of the future. " Tony Farley, Executive Director, Sydney Catholic Schools
Both students attended the NSW State Presentation held at the Anzac Memorial, Hyde Park on 15 November 2022. 
Olivia will now be flown to Canberra to receive her national award at Parliament House, accompanied by a New South Wales NHC Coordinator on 28 November 2022.
By: JUDE THOMAS