Sydney Catholic Schools strives to crack the code to gender equity by creating an educational environment that prepares our students for the world in which they live.
Female students are encouraged to embrace innovative learning strategies, including technologies and disruptive innovation to ensure access to an equitable education system.
"Innovation is a driver of change and by embracing new technologies and championing the unique skills and knowledge of women in Science, Technology, Engineering and Mathematics (STEM), which may also include the Arts with STEAM, Sydney Catholic Schools can offer a gender-neutral education, to accelerate progress towards a gender equitable future," said Dr Kate O'Brien, Director of Education and Research.
Sydney Catholic Schools' aims to close the digital divide by providing all students' access to inclusive digital technologies and learning opportunities as well as role models in the STE(A)M fields.
Creating clear pathways from Kindergarten to Year 12, Sydney Catholic Schools endeavours to leverage the transformative power of inclusive innovation, critical to cracking the code to gender equality.
INTERNATIONAL BACCALAUREATE
St Ursula's College Kingsgrove is the first systemic Catholic school in Sydney to offer the International Baccalaureate Diploma (IB) Program alongside the Higher School Certificate.
The holistic nature of the IB ignites creativity, innovative thinking and design, particularly, for in-depth projects undertaken which include the Arts into STEM.
With this choice of study in Stage 6 the young women at St Ursula's have further access to disruptive education— that is, an an education that incorporates innovation and technology and STEM subjects — needed for future careers in these fields.
In addition to NESA approved subjects in STEM, girls will be offered access to coding classes, robotics programs, and other technology-based learning opportunities.
CATHOLIC EDUCATION FOUNDATION
Women students and leaders of education have been honoured on International Women's Day morning tea at Sydney Catholic Schools (SCS) World Square office.
The morning tea was hosted by the Catholic Education Foundation (CEF), a not for profit charity of Sydney Catholic Schools financially supporting families wanting a Catholic education. Guest speaker Mary Calagrossi, principal of St Joseph's Catholic Primary School Enfield, spoke of the importance of providing access to a Catholic education.
"Sydney Catholic Schools encourages service to those who are most vulnerable and the Catholic Education Foundation is certainly an example of working towards building a more just and equitable world for all," said Mrs Calagrossi.
The foundation offers a post school pathway through the CEF Teaching Scholarship Program at the Australian Catholic University for recipients who have demonstrated educational excellence.
The foundation's supervisor, Kathleen Badolato, said she was proud to provide equitable access to a Catholic education for women from Kindergarten through to university.
"To provide our female students with the financial support to go to university to study teaching, is a way to pay it forward from one woman in education to another," Mrs Badolato said.
REVOLUTIONISING LEARNING
St Clare's College Waverley is committed to revolutionising learning to better prepare their young women for a world with artificial intelligence and technological and sustainability needs.
Moving towards a more authentic learning approach the students are engaging in entrepreneurial education to strengthen their capabilities by working collaboratively on real world problems. 
"Partnerships are central to this approach as we want our students working alongside and learning from industry professionals to enhance their learning outcomes," said Taryn Barber, St Clare's Leader of Innovation and Partnerships.
WINNING AWARDS IN TECH 
Mia Bartovic – STEM MAD Awards SCS' second place winner for her app 'Carbon Carpool Co.' designed to reduce the number of cars during school drop offs. Also the winner of the SEAM sponsored award, she will be mentored during 2023 on how to commercialise her app.
Marianna Quintero Zuniga – STEM MAD Awards winner of Best Integration of Technology for her concept for a Pop-Up Learning Pod based on the teaching and learning needs of staff and students under guidance from Leaf Architects.
Future technology for life improvement project – students use the United Nations Sustainable Development Goals as a guide to design and prototype an innovation to improve a local, national, or global issue. At a pitch morning, students have 60 seconds to present their innovation to a panel of experts and industry representatives who offer professional advice.
ENGAGING GIRLS IN STEM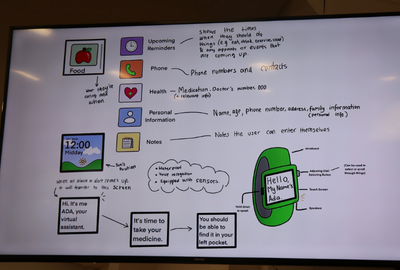 "St Clare's embarked on a STEM pathway in 2019 in order to not only engage girls in their learning, but to embed important knowledge, skill sets and ideas into the world of STEM and to foster gender equality and diversity for girls and women," said principal, Ann Freeman.
"Already our girls have shown their capacity in these areas with their recent success at the STEM MAD Awards and Gamechanger Girls eSports competition."
"Congratulations to all the girls and teachers who were involved in these projects and we look forward to many more to come," she said.