Drama has given students from Sydney Catholic schools in this year's Senior Theatre Works production an outlet for their inner activist.
Seven students performed Revolution Society, a comedy by British playwright Sarah Power about students keen to make a difference where they feel government is failing, for their peers at eight Catholic high schools across Sydney in four days.
The students had six weeks from auditions to learn and rehearse the material, with professional opera and theatre director Goldele Rayment as their industry mentor.
The students never cease to amaze me in their knowledge of political and social of realities.
Like in industry, the students may not know each other before the production starts. This gives them an authentic way to grow the confidence and social skills needed to tackle any professional production and many other challenges.
"It's the classic collaboration setting," said Sydney Catholic Schools Performing Arts (CaSPA) Secondary Coordinator Elizabeth Mullane.
"We rely on the cast as a whole for the success of the production, and they learn that very quickly. This is a chance for the students who are really perfecting their drama skills to perform a fully-staged live play."
Ms Mullane said the script offered timely and accessible themes, which students must consider as they develop their character.
"The students never cease to amaze me in their knowledge of political and social of realities," she said.
"They have really sophisticated thoughts and opinions about current issues and they learn even more from a process like this because they have to internalize their character. That's even trickier if that character is the antithesis of what they personally believe."
Casimir Catholic College Marrickville Year 10 student Gabriel Hannan-Moon plays philosophy student Leo in the production, testing theories including socialism and empiricism as the play develops.
"In order to know where Leo and his views are coming from, you definitely need to know what he is talking about but for me, I'd hope audiences watch this and see the value of teamwork," he said.
"I play the character who is most often saying no to the others' ideas. You need teamwork to organize such a large scale thing."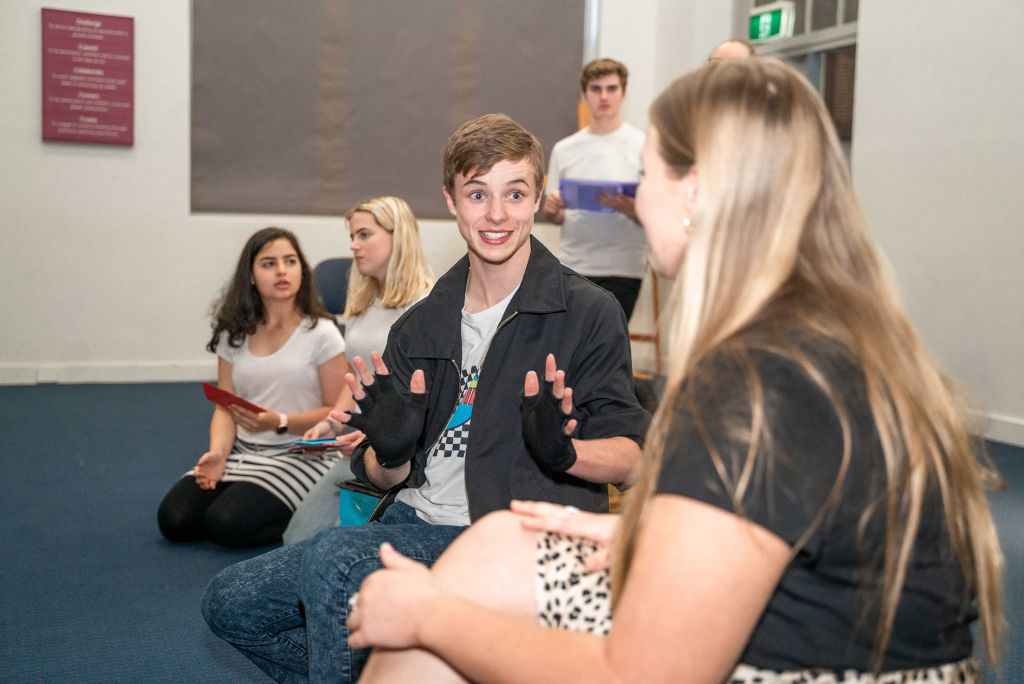 Aquinas Catholic College Menai student Kate Donovan, in Year 12, has performed in senior theatre works for the past four years and said the experience makes her value the effort both peers and professional actors put into their work.
Her character faced an ethical dilemma when offered a job with a major corporation that did not align with her values but paid well.
"She was one of the most difficult characters I've ever had to play, so I just knuckled down on her values and what she wanted for her family and future," Kate said.
"It's nice to show the younger generation that there are opportunities to change things and that there are opportunities for drama students to build their skills. You just need to be able to take them."