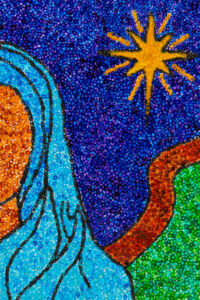 Established in 2005, the Christmas Story Religious Art Exhibition and Competition is an annual event open to Year 5 and Year 6 students in the Archdiocese of Sydney and the Dioceses of Wollongong and Bathurst, and Catholic students in Government schools.
Students are encouraged to reflect on the Sacred Scripture of Advent and Christmas through personal conversation with God in prayer and through artistic expression, making connections to their own and shared life experience.
Every year, hundreds of artworks are submitted and shortlisted by a team of professional artists and teaching specialists from the Mission and Identity and creative arts fields. Winners are announced at a ceremony and the shortlisted works are displayed in the exhibition over the Advent period at the University of Notre Dame. The Catholic Weekly also publishes a booklet celebrating the achievements of the exhibitors. 
We invite you to be present to the beauty of creativity, depth of spiritual reflection, and uniqueness of self-expression our students have shared in their artworks.