International Women in Mathematics Day began four years ago to honour Iranian mathematician Maryam Mirzakhani, the first and only woman to win the Fields Medal – the Mathematics equivalent of a Nobel Prize.
Here three inspirational women from Sydney Catholic Schools reflect on what they love about Mathematics, and on the power of Maths to change the world.
CHRISTINE MAE, Sydney Catholic Schools' Specialist: Mathematics and Numeracy K-12
"A balance of experiences is pivotal to the mathematical identities that girls develop."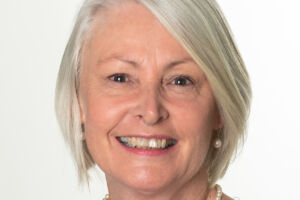 Dr Christine Mae began her career as a music teacher, later switching roles to follow her passion to see more students thrive and excel in Mathematics.
She said Sydney Catholic Schools' approach to teaching Mathematics balances rich, challenging tasks that stimulate communication, reasoning and problem solving with opportunities to practise, master, automate and apply the skills that are the building blocks of the subject.
This approach is clearly paying off.
Four of the seven 2021 HSC Top Achievers in Mathematics courses from Sydney Catholic Schools were women.
Projects supporting the growth mindset of the system's female students include a pilot Maths Acceleration Program at all-girls' Marist Sisters College Woolwich, which will see gifted Year 9 Mathematics students complete Year 9 and 10 coursework in one year.
According to Dr Mae, "Angela D'Angelo – the Sydney Catholic Schools' Master Teacher who works closely with secondary colleges striving for excellence in Mathematics – provides an ideal role model for girls aspiring to study higher levels of Mathematics because of her deep knowledge of the subject and passion for raising the profile of women in Maths."  
Others in the system's 36 secondary schools are given the chance to accelerate their learning, some working up to three years ahead in the curriculum.
"We have increasingly noted that girls shine in Mathematics given opportunities to reason, collaborate and communicate in relation to complex ideas rather than responding quickly to surface level questions," Dr Mae added.
NICOLA STEELE, St Clare's College Director of Integrated Learning, STEM and Mathematics Teacher
"Young women that engage with higher levels of mathematics … will be in a better position to be part of the industries that will shape our world."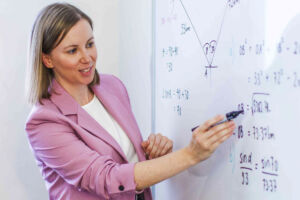 Nicola Steele traded a career as an aerospace engineer and analyst in finance for a Mathematics teaching role at all-girls' secondary school, St Clare's College Waverley.
Now she is helping innovation at the College reach new heights, as the College's Director of Integrated Learning.
"In all of the jobs I had held I was often the only woman in the room," she said.
"This was a big part of my decision to encourage, inspire and mentor young women at school to pursue higher levels of mathematics – and to take on and achieve more roles within these industries."
In her present role, she works closely with the school's leadership and heads of department to provide authentic learning experiences for students, including developing resources, scheduling project afternoons, gathering project feedback, and data analysis.
One of the projects she is leading, Post-Earth Pioneers, sees Year 7 Maths and Science students plan a mission to continue human life beyond Earth.
"I love that Mathematics is a subject where you get to solve problems and think logically, which are skills that you can apply to any other subject you study," she added.
"The projects are a really fun chance to do workshops with the girls on space-related things that might not fit into my regular Maths classroom.
"With how much the Australian space industry is growing, it's very feasible that many of these students could go on to work in it."
Mathematics graduates continue to be in high demand for many industries, including in technology companies, future transportation and space travel. So Mathematics skills are increasingly important.
"The more young women engage with higher levels of Mathematics, the more they will be in a better position to be part of the industries that will shape our world," Ms Steele said.
MONIQUE GATT, accelerated Mathematics student
"Maths gives you that analytical mindset – the ability to solve problems and challenges."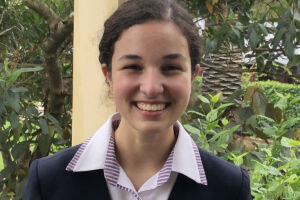 Domremy College Five Dock Year 11 student Monique Gatt has studied accelerated Mathematics since Year 8. She is currently completing Year 12 Mathematics Advanced and Mathematics Extension 1.
"There are a lot of things I love about maths – problem solving and using it in everyday life," Monique said. "It's satisfying when you answer a challenging question."
Monique, who hopes to study medicine at university post-school, said a strong STEM program and encouragement from her teachers and school principal helped to establish analytical thinking skills and a growth mindset.
"It encourages you to persevere – not think 'I can't do this' – and go forth through the challenges that you face.
"There should be more conversations about girls being involved in maths.
"My brother was explaining to me that there aren't many girls in his university computer programming course.
"We need to have more women studying the sciences, in particular Mathematics, to allow them to pursue different career paths."
Monique thanked her teachers at Domremy for their willingness to help and answer questions at any time.
"They have helped me strive for the best and reach my full potential," she said.
"They are welcoming, professional and always make me feel at ease."