From Sunday 21 March through to 27 March 2021 we are Celebrating Sydney Catholic Schools, making it the perfect time to go visit your local Catholic school to see for yourself if the school is the right fit for your child!
Everyone's been so excited about the prospect of hosting an open day after the pandemic closed off the option to many schools last year. For schools it is always an enjoyable day.
Students love to showcase their school and teachers their classroom. This year schools will be able to open up to prospective families again, under the COVID-safe guidelines and with every precaution taken.
One common theme we have heard from parents is that they felt their child was very well supported by their school when they needed to learn from home last
year. Sydney Catholic Schools (SCS) handled the learning from home periods really well across the board, and even more so in the critical years of Kindergarten, Year 7 and Year 12.
What is valuable in a Catholic school for parents?
You just have to visit one of our schools to see the beauty of the work within; families coming together with schools in providing a robust academic grounding to help their child traverse the world today.
Catholic schools provide authentic values, which are in great demand in workplaces, politics, sport, every sphere of life. Providing education through the Catholic lens of caring for the individual and loving the person where they are at is at the core of our schools.
Catholic schools offer a holistic education underpinned by Gospel values, and we offer a great education for all families. As our schools grow and progress in good outcomes for students more families will be attracted to SCS.
"We've all got stories about a teacher who has shaped our lives in some way, often without him or her even realising it"
At SCS are looking at how to provide excellence in teaching and learning across all of our schools, working within 12 networks across SCS from North Sydney to the south west, the eastern suburbs and everything in between.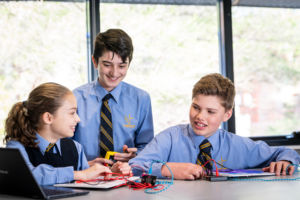 The networks assist us to build local connections and collaborations, for example between primary and high schools, families and parishes, to bring about the best outcomes for our students no matter where they are in Sydney.
We can also collaborate across networks, which is really important in such a demographically and geographically diverse city as ours.
Authentic communities are all about relationships and our schools are already thriving Catholic communities. But this is part of a new vision of leadership grounded in how best to build broader communities that involve close partnerships between the schools, parishes and families.
That's not to say this work wasn't happening before, but there is very much a renewed focus on everyone working together which is already proving to be quite powerful.
This year marks 200 years of Catholic education in Australia
We're going to have lots of celebrations this year! The vision and hope of our pioneers, those priests and religious whose focus was what the people of the colony needed the most, has been fulfilled which is really wonderful and should be celebrated.
What I'm most proud of in all my years of working in Catholic education is that we've stuck to our core purpose.
We have grown students' potential and their families' and contributed to the growth of the Church in Sydney and the wider society while supporting students
in growing their faith.
At our recent Mass for new teachers with the Archbishop, our Executive Director Tony Farley reminded them that they are joining a noble profession. That is so true. We've all got stories about a teacher who has shaped our lives in some way.
Barbara Watkins
Director of System Performance,
Sydney Catholic Schools
As well as open days, our schools offer school tours throughout the year for families new to the area. Please contact your Sydney Catholic school of choice for more information and to book in for a tour.