Marina Eldahr is one of the first to land a graduate teaching role at Sydney Catholic Schools through the organisation's newest pathway to teaching.
She shares how two years of paid work at Sydney Catholic Early Childhood Services (SCECS) gave her the experience she needed to transition quickly and seamlessly to her dream career as a primary school teacher*.
How did you begin working for SCECS?
I was in my first year of study and wanted to grow my knowledge of working with children and understanding their needs.
After seeing uni students in their SCECS uniform on campus, I began to enquire and was eager to kick-start working in this field.
SCECS currently operates Outside School Hours Care and Early Childhood services at several Catholic schools and Parishes within the Sydney Archdiocese.
I began by filling in at different centres, which was great to explore different school communities. This led me to complete my educator training and become a responsible person at the Lakemba Out of School Hours Care centre.
"Coming into work and knowing I am a part of a child's learning journey, and making a difference is rewarding and so meaningful to me" – Marina Eldahr
What was the highlight of your time at SCECS?
My time at SCECS was an exciting and meaningful experience.
The flexibility of shifts from morning to afternoons fit well with my uni, family, and social life balance.
I enjoyed coming into work and preparing for the day including healthy meals, indoor and outdoor activities and learning stories.
These daily tasks did enhance my knowledge of learning, supervising, role modelling, communication and relationship building, which are all essential in education.
What is your favourite thing about teaching?
What I love most about teaching is that every day is different.
You never know the obstacles you'll come across, or even if the day is going to go to plan. But that is what keeps me on my toes!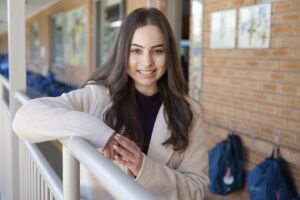 What years are you currently teaching? Are there any co-curricular initiatives you are involved with?
Being a casual teacher at a few Sydney Catholic primary schools means I am relieving teachers from all years and stages of primary.
I have been involved in many school and after-school duties – assemblies, Masses, and fundraisers – and am lucky enough to support children in the Amadeus Music Education Program.
I find this a great opportunity to pick up on different classroom routines, resources and students, to better understand the life of being a teacher.
What do you see as the benefits of the SCECS pathway at Sydney Catholic Schools?
I think that the smooth transition from SCECS to teaching in Sydney Catholic Schools ensures more future opportunities.
Understanding the routine and environment of a Catholic school community at SCECS made me more confident to adapt to a teaching role, expressing my love for teaching in the way of God.
For more information on teaching pathways at Sydney Catholic Schools, contact hr.recruitment@syd.catholic.edu.au.
*Marina is a regular casual educator at St Therese's Catholic Primary School Lakemba, Christ the King Catholic Primary School Bass Hill and St Mary's Catholic Primary School Georges Hall. She is a graduate of Trinity Catholic College Auburn and Australian Catholic University.